Introduction: 🎣🌟 Exciting News from True Blue Fishing Charters! 🌟🎣
At True Blue Gold Coast Fishing Charters, we don't just offer fishing experiences; we provide unforgettable adventures. We're thrilled to share some exciting news with our fishing enthusiasts – we've upped our game with a brand new set of top-of-the-line Shimano and Penn tackle to ensure that every fishing trip with us is nothing short of exceptional. Join us as we dive into the world of quality fishing gear and the species that await you on your next charter.
Quality Gear for Unparalleled Adventures:
Shimano TLD 20s: Our arsenal now boasts Shimano TLD 20s, the ultimate choice for precision bottom bouncing. These reels are designed for strength and performance, giving you the power to take on a variety of challenging species.

Penn Slammers and Spinfishers: Whether you're float lining for snapper, flicking baits at the Fads, or hunting mackerel, our Penn Slammers and Spinfishers have got you covered. Penn is synonymous with durability and reliability, making your angling experience smooth and efficient.

Shimano Tyrnos and Talicas: When it comes to live baiting and trolling for species like Marlin, Wahoo, Mahi Mahi, and Cobia, you need gear that can handle the toughest battles. Our Shimano Tyrnos and Talicas are designed for just that – robust, powerful, and responsive.
A Shout-Out to Our Suppliers:
We wouldn't be able to provide you with this top-tier equipment without the support of our trusted suppliers. We extend our heartfelt thanks to Doug Burt's Tackleworld and The Bait Shop Gold Coast for ensuring that our fishing charters are equipped with the best gear available. Their commitment to quality aligns perfectly with our mission to offer unparalleled fishing adventures.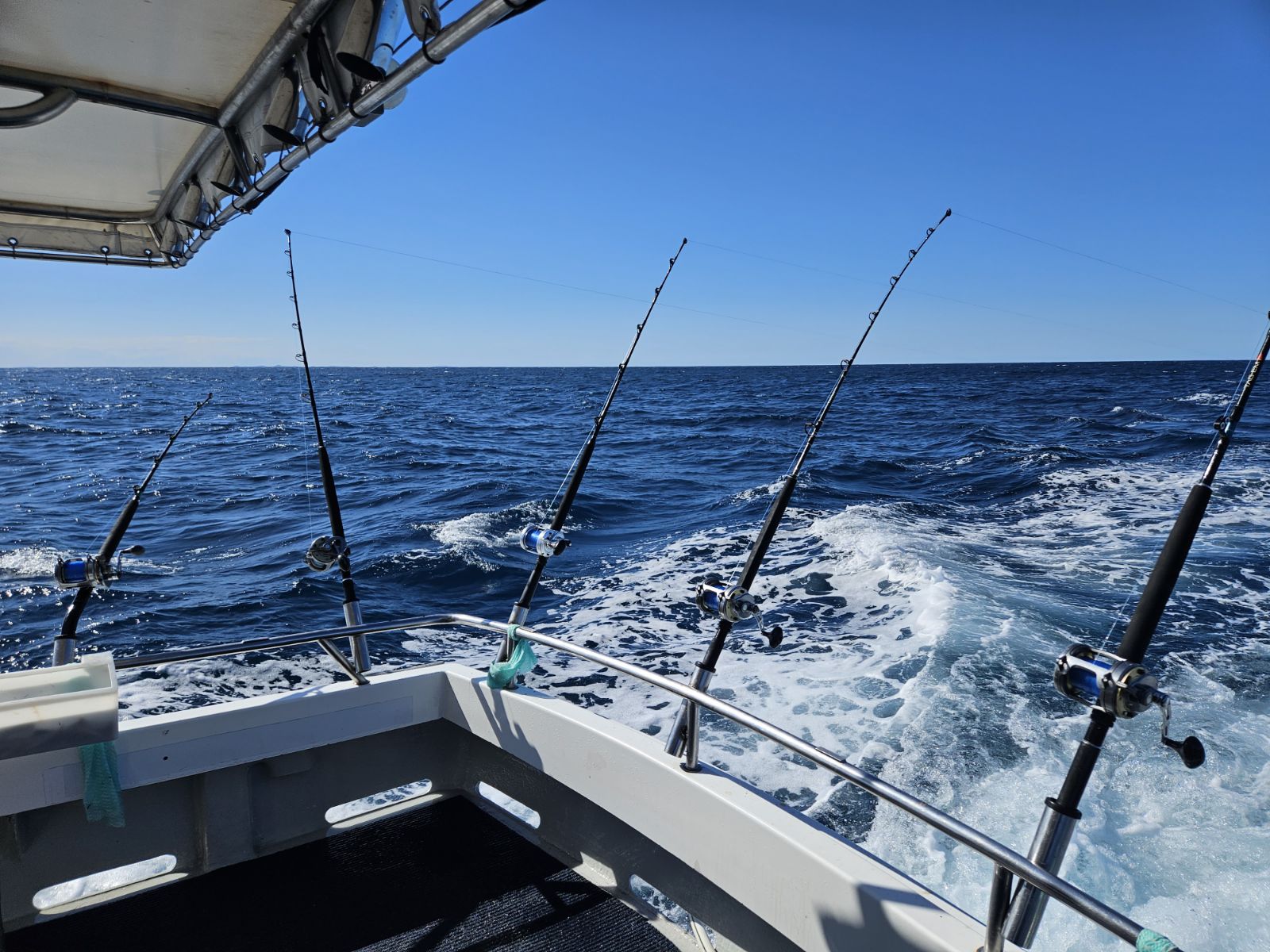 Species That Await You:
Now that you know about our top-notch gear, let's take a closer look at the species you can target on our charters:
1. Mahi Mahi (Coryphaena hippurus): Known for their vibrant colors and acrobatic displays, Mahi Mahi are prized catches off the Gold Coast. They're often found near floating debris, weed lines, or offshore structures. Trolling with lures or using live bait can lead to success in targeting these magnificent and delicious fish.
2. Snapper (Pagrus auratus): Highly sought after for their delectable flesh, Snapper can be found in the deep offshore waters off the Gold Coast. They prefer reefs and rocky outcrops, making them a challenging yet rewarding catch.
3. Pearl Perch (Glaucosoma scapulare): A prized target species in the deep offshore waters, Pearl Perch are known for their delicious taste and thrilling fights. They inhabit deep offshore reefs and rocky bottoms, offering an exciting angling experience.
4. Wahoo (Acanthocybium solandri): Speedy and thrilling, Wahoo are commonly found near reefs and drop-offs. Trolling with lures and using live bait can lead to success in targeting these powerful catches.
5. Spanish Mackerel (Scomberomorus commerson): Renowned for their speed and voracious appetite, Spanish Mackerel are often found near deep-water reefs and drop-offs. Trolling with lures and using live bait or pilchards can lead to success.
6. Marlin (Various Species): For the ultimate offshore angling challenge, target marlin species like black marlin and striped marlin. These pelagic giants can be found in the deep waters off the Gold Coast, offering thrilling battles for anglers.
Conclusion:
With our new top-of-the-line gear and the incredible species waiting to be caught, True Blue Fishing Charters is the ultimate choice for your fishing adventures. Join us, book your trip today, and experience the difference that quality gear can make. Cast your line, feel the excitement, and make lasting memories with us. 🚤🌊🐟 #TrueBlueFishing #FishingAdventures #Shimano #PennTackle #TopQualityGear