Introduction: The Coomera River, nestled in the heart of the Gold Coast in Queensland, Australia, is a haven for anglers seeking diverse fishing experiences. This picturesque river flows gracefully, meandering its way through various landscapes, from coastal stretches to tranquil freshwater reaches. Join us on a journey to explore the angler's paradise that is the Coomera River, uncovering the species, tackle, techniques, and essential tips that make this waterway a must-visit for fishing enthusiasts.
A River of Diversity: The Coomera River starts at the northern tip of Sovereign Island, where it meets the Gold Coast Broadwater. As it meanders southward, anglers encounter a variety of fishing environments, each with its own set of challenges and rewards.
1. Bream: The Coomera River is renowned for its healthy bream population. Light to medium spin gear or a bait caster outfit is perfect for targeting these feisty fighters. Use lightly weighted baits such as prawns, yabbies, or herring for the best results. Bream often lurk around structures like rock walls and jetties, so cast your line with precision and finesse.
2. Mangrove Jack: These elusive predators are a prized catch in the river. To increase your chances of landing one, use live baits like herring or prawns. Mangrove jack love structure, so focus your efforts around submerged logs, rock formations, and overhanging mangroves. A stealthy approach and well-placed casts are key to your success.
3. Sand and Mud Crabs: Crabbing in the Coomera River is a popular pastime. Set up crab pots or dilly nets baited with fish frames or chicken necks, and check local regulations for size and bag limits. The upper reaches of the river are excellent crabbing grounds, and patience pays off.
4. Bull Sharks: For those seeking an adrenaline rush, the Coomera River is known for its bull shark population. While targeting these powerful predators, it's essential to use sturdy tackle, as they can put up a formidable fight. dead baits like mullet or freshwater eel are your best bet.
5. Flathead and Trevally: These species are also abundant in the Coomera River. Light to medium spin gear with soft plastic lures or bait rigs work wonders. Cast towards structures like rock walls, mangroves, and submerged timber to entice flathead and giant trevally. Show respect to local property owners and adhere to all fishing regulations.
Light to Medium Spin Gear and Bait Caster Outfit: To make the most of your Coomera River fishing experience, ensure you have the right tackle. Light to medium spin gear or a bait caster outfit is your best companion for a day on the water. These setups offer the versatility needed to target a wide range of species that call the river home.
Bait Selection:
Lightly Weighted Baits: When targeting species like bream and flathead, consider using lightly weighted baits. This allows your bait to appear natural in the water, enticing more bites.

Live Baits: For a successful day on the Coomera, live baits are often the key to success. Herring, prawns, and yabbies are top choices. Their natural movement and scent make them irresistible to a variety of species.

Lures: Don't forget to pack your favorite lures. Casting lures towards the river's various structures, including rock walls, mangroves, and jetties, can yield fantastic results. Match your lure choice to the target species and conditions for the best outcomes.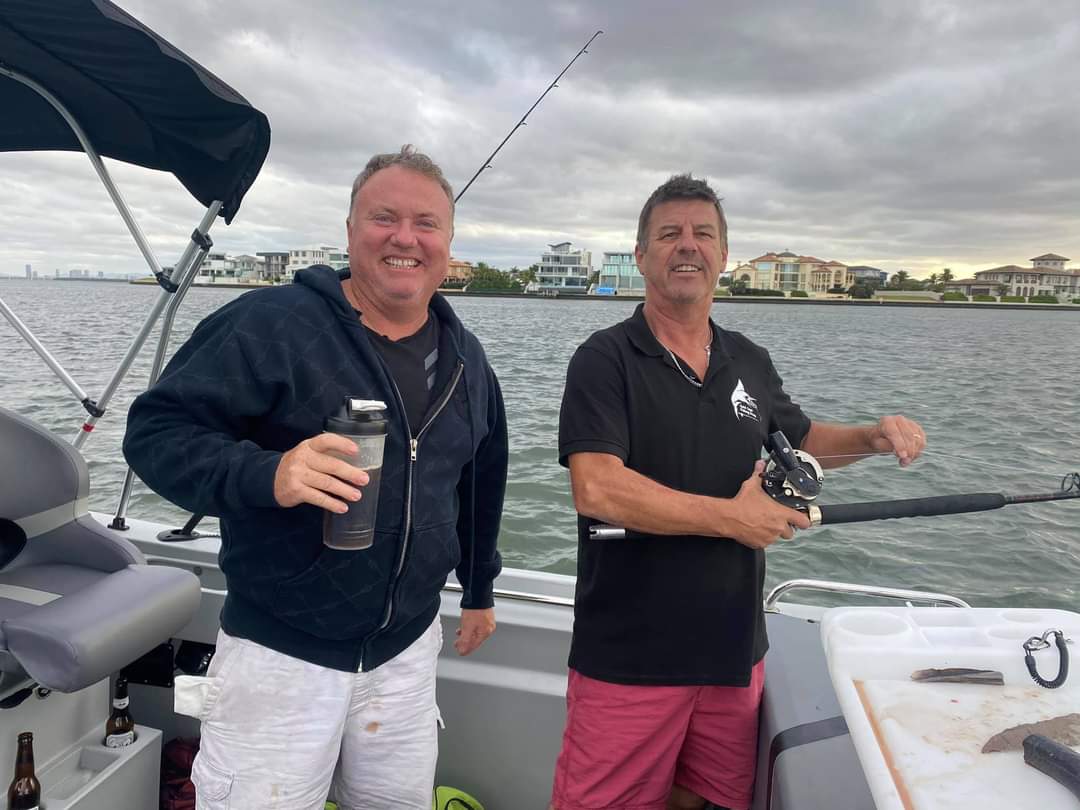 Respect Local Property Owners: While exploring the Coomera River, it's crucial to show respect to local property owners. Many private residences line the river's banks, and it's essential to adhere to any access restrictions or guidelines. By doing so, you help maintain a positive relationship between anglers and the community.
The Oxenford Weir: A Hidden Gem Venturing further upstream, you'll discover the Oxenford Weir, a hidden gem that's often overlooked. This location is a hotbed for bull sharks and occasionally surprises anglers with the appearance of barramundi. The thrill of landing a barramundi in the Coomera River's upper reaches is an angler's dream come true.
The Freshwater Oasis: A Unique Ecosystem Beyond the Oxenford Weir, the Coomera River transforms into a freshwater oasis. This section of the river opens up a whole new world of fishing opportunities. Here, you can target various freshwater species, including bass, carp, tilapia, and freshwater catfish. The lush, serene surroundings and the tranquil flow of the river create an idyllic backdrop for freshwater fishing enthusiasts.
Conclusion: Fishing the Coomera River on the Gold Coast offers an abundance of opportunities for both novice and seasoned anglers. Whether you're chasing bream, mangrove jack, sand and mud crabs, bull sharks, flathead, or mulloway, this river has it all. Remember to use the appropriate tackle and techniques for each species, and always follow local regulations. With the right tackle, techniques, and a dash of respect, you're sure to have an unforgettable fishing experience along this hidden gem of a river. Cast your line, savor the thrill, and respect the environment and its inhabitants as you explore this fishing paradise.